A little more background:
Small eastern town - trailer court kid; pink trailer (another story), lots of reflective time growing up: woods, creeks, swings, a blue bike, etc.
Got "How To Draw Book" at age 11. Majored in art in high school, college (rejected the suggested anatomy course for art students out of squeamishness)
Taught art in a junior high school in Hollywood. Painted and sold (for damn cheap) the oils I'd do after my 8 to 3 stint as an art teacher.
Took a few decades off. Made three babies. This turned out wonderfully well.
Always translating what enters my eyes and ears - viewing and reviewing - stampeding metaphors in my head - jealous eyes that want to keep every image - that's why I create and recreate - a way to hang onto everything (Yes... I also never throw anything away).
Creating is a way to define and control the demons that would have made me totally mad by now had I not given them a healthy outlet.
I am incurably curious about everything. If I had a working memory, I'd have left Einstein and De Vinci in the dust long ago. Alas.
Born under the sign of Cancer, I overcame my dread of water in my twenties.
Currently living and working in Santa Barbara - painting and mixed media.
I can't swim, yet I am at home in the water, under the water... In water, my skin is aroused. I am hypnotized feeling my hair waver like long grasses. Being immersed in water is like being held.
Water and women. Womb; creation, haven, enigma, enveloping,
Form in rhythm and light.
Body flying wingless beneath surface turbulence.
A liquid world, soup of the first things to live, stew of creation.
Mythic female - graceful, enigmatic, beneficent, jealous, gentle, welcoming, powerful, alluring, free.
I am obsessed with wonders. And wondering. My eyes and ears are greedy. I am compelled to sketch, paint, sculpt, write or photograph constantly. Many of my pieces incorporate my visual imagery with my poetry.
My folk art sculptures of mermaids incorporate the treasures I gather; oak roots, shells, rocks, sea weed... my fascination for nature. My canvases rendered in oil or acrylic bridge my dreams and desires. I am drawn by the flow of wending line, soft form and vibrant color. I am not a cubist.
Our human experiment is embryonic. Evolution and devolution are the yin and yang of our experience... reaching back while striving forward as we weave art and science into an expanded, fluid cognizance.
My quest is for realms beyond my experience. I hope my paintings bring the viewer to a magical place of conjuring where the willing suspension of disbelief allows the mind to play and dream in worlds that exist within our desire for faith, mystery and myth as we seek truth and beauty.
I chose the name Inanna to sign my Mermaid Raptures work. Inanna is the Sumerian goddess of love and war, and I feel she represents the inimitable currents between ebb and flow in our ultimate search.
Each piece is part of a real story.
The boy in the boat brings a gift ~
The girl waits on the rock.
The gift is left in the water for her.
Beneath the surface she accepts her gift.
In gratitude, she gives music.
Water and sky are the infinite canvas
where everything is possible,
My eyes are tireless and eager
watching reflections and clouds as
I kayak in Rosebud.
~
I feel graced.
I drink in form, sound, color, rhythms,
stillness, flux and flow
then return to my finite canvas and
begin my humble translations.
I can hear her music.
~
At dusk I walk to the end of the dock
with a glass of Chardonnay,
pour a libation to the deities of the lake
and whisper, "Thank you..."
Annette Matrisciano, "Inanna"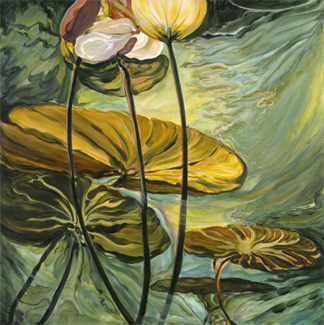 "Lotus" (acrylic) 36" x 36"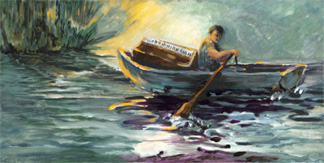 "Deliverance" (acrylic) 12" x 18"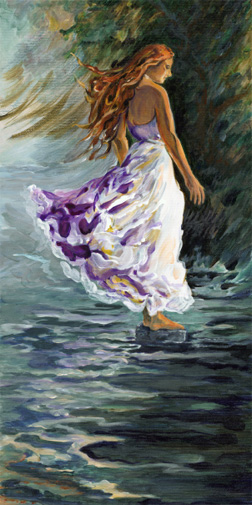 "Waiting" (acrylic) 8" x 16"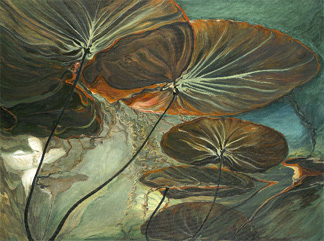 "Beneath" (acrylic) 36" x 48"